CSR Report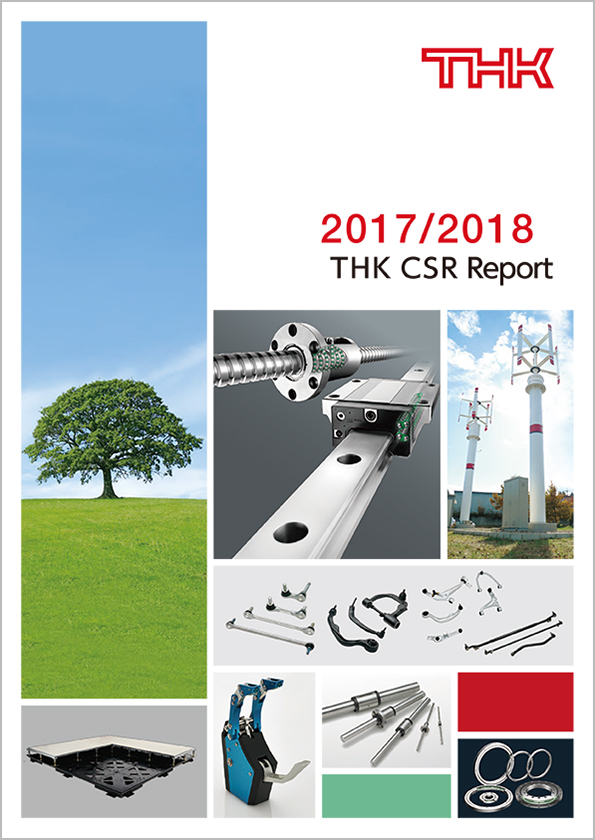 THK Group has followed up with the THK CSR Report 2017/2018, our seventh report. This provides a summary of the Group's activities and efforts in the area of corporate social responsibility.
This report is a communicative tool that will enable us to obtain vital feedback and further improve the quality of THK's business activities.
THK CSR Report 2017/2018
Download the entire report (5,854KB pdf)
Note: We have also divided the contents of this file into smaller files, which can be downloaded more quickly. Please refer to the list below.
Index
Contents
THK's CSR Policy/Contents
(PDF 300KB)(English)
THK's CSR Policy
Contents
Message from the CEO
(PDF 171KB)(English)
Contributing to the Creation of an Affluent Society Through Mid- to Long-Term Growth
Company Overview
(PDF 702KB)(English)
Company Overview
Special Features/The Many Applications of THK Products
(PDF 1,376KB)(English)
Reducing Vertical Vibration & Attending the Three-Dimensional Seismic Isolation Demonstration

The Joint Circular Arc-Type R Guide Makes Compact, High-Precision Particle Therapy Equipment Possible

SEED Solutions Expands Research Possibilities for Industry-Government-Academia Innovation Programs

The Model WLS Low-Torque Shaft Unit is Crucial in Making the Magnus Vertical-Axis Wind Turbine a Reality

Advancing the World of Health

Protecting the Key to Fire Fighting and Disaster Prevention with Seismic Isolation

Seismic Isolation Dramatically Improves Production Recovery by Eliminating Earthquake Damage to Our Systems

Making Use of Seismic Isolation Systems to Keep Tests Running Even During Earthquakes

Seismic Isolation Systems Protect Irreplaceable Historical Works of Art
Management Structure
(PDF 494KB)(English)

Results of 2016 Initiatives
Corporate Governance
Strengthening Compliance Awareness
Risk Management and Information Security
Involvement in Society
(PDF 1,255KB)(English)

Together with Our Customers
In Our Customers' Words
Together with Our Shareholders
Together with Our Employees


Harmony with the Environment
(PDF 990KB)(English)

Promoting Environmental Management


Environmental Targets, Environmental Accounting, and Environmental Impact Overview
Conserving Energy and Preventing Global Warming
Conserving Resources and Achieving Zero Emissions
Managing Hazardous Materials
Green Distribution
Third Party Opinion
(PDF 184KB)(English)
Takeshi Furuhashi
College of Science & Technology Nihon University Professor, Dr.Eng.
THK CSR Report Back Number